Techno Concept SARL of France are bringing their revolutionary neurological rehabilitation product to the UK shortly. Here we give you some basic information and the opportunity to see the system in operation. The Vibramoov will be on our Stand at the European Neuro Convention at ExCel, London on June 6,7 2018. If you are attending this event contact us and we can make sure we have time for you. If you are interested to see the Vibramoov in action then please let us know with the form at the bottom of this page.
Vibramoov and Functional Proprioceptive Stimulation
Many acquired or congenital neurological impairments (such as stroke, incomplete spinal cord injury, traumatic brain injury, cerebral palsy, MS and Parkinson's disease) can dramatically affect our ability to move at will and they disturb our sense of "connection" to and awareness of our limbs. Awareness of limb position (proprioception) is impaired.
One of the main challenges of neurorehabilitation is to preserve or re-establish the coordination between motricity (active movement) and the related neurosensory information.
Vibramoov offers a unique neurorehabilitation therapy by maintaining the functional interaction between movement and proprioception throughout the recovery process.
Vibramoov enhances both the rate and potential for recovery as the system may be used safely at the earliest stages of recovery; even earlier than typical robotic interventions.
Early intervention is very important to maximise the rate and extent of recovery as prolonged immobility brings about secondary effects that can be very hard to overcome when therapy is delayed.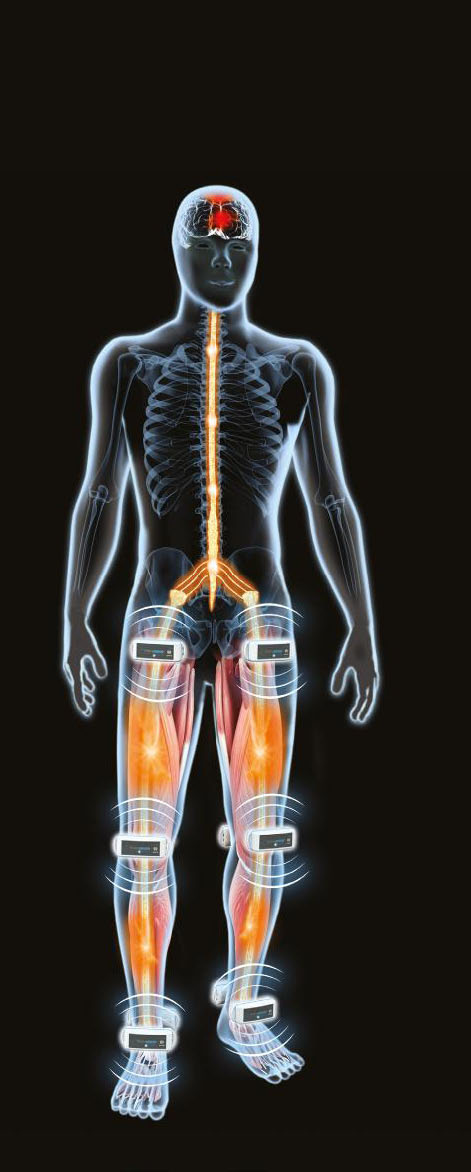 Programmed stimulation of the muscle spindles brings about brain activation
Enhancing Functional Movement Therapy
Vibramoov is a new product arising from 30 years of fundamental and clinical research.
The Vibramoov system applies Functional Proprioceptive Stimulation to preserve the sensory and motor functions of the patient even when movement is impossible. A number of electromechanical actuators are placed as shown in the adjacent images. Programmed sequences stimulate the nervous system with sensory information which is identical to that which occurs in normal movement. This afferent information can induce motor responses corresponding to the sensation that the patient experiences. The patient has the sensation and experience of movement even at the earliest stage of recovery. It is safe and effective when applied early in rehabilitation.
Research findings suggest that the sensory feedback induced by Vibramoov and the associated perception of movement may counteract disuse-induced cortical plastic changes. This happens due to the recruitment of a large part of the cortical network which is normally used during the actual performance of a movement. This research supports the possibility of guiding cortical plasticity with proprioceptive augmented feedback.
References
Illusory movements prevent cortical disruption caused by immobilization
R. Roll, A. Kavounoudias, F. Albert, R. Legré, A. Gay, B. Fabre, J.P. Roll. NeuroImage - 2012
Localized 100 Hz vibration improves function and reduces upper limb spasticity: a double-blind controlled study
R. Casale, C. Damiani, R. Maestri, C. Fundarò, P. Chimento, C. Foti. European Journal of Physical and Rehabilitation Medicine - 2014
Focal vibration in neurorehabilitation
N. Murillo, J. Valls-Sole, J. Vidal, E. Opisso, J. Medina, H. Kumru. European Journal of Physical and Rehabilitation Medicine - 2014
Three Stages of Rehabilitation
Treatment During the Acute Phase of Rehabilitation
Stage One
The Vibramoov mobile unit enables therapists to apply very early specific treatments to bedridden patients in order to preserve their locomotor pattern. This treatment gives them the sensation that their legs move and drives them to realise important motor responses mimicking these sensations.
Vibramoov requires only a short setup time of less than10 minutes and can be readily accomplished by a solo therapist.
Gait Simulation with a supported posture
Stage Two
Thanks to its versatility, Vibramoov is adjustable to the patient's capabilities and rate of progress. With the adjustable "stander" unit the body of the patient can be placed in an optimal posture to experience and realise various movements approaching those of gait.
Advanced treatement in Standing
Stage Three
The Vibramoov stimulation patterns applied during patient standing facilitate the rehabilitation of postural control and drive the patient to re-initiate the gait.
This 2 minute video from Techno Concept illustrates the principles of Vibramoov for gait rehabilitation.
Upper Limb Rehabilitation
Early Arm Treatment Encourages Neuoplasticity
Functional recovery of the paretic upper extremity eludes the majority of patients after stroke or TBI. Vibramoov's early application helps these patients to stimulate neuroplasticity. Application facilitates the recovery of the ability to coordinate their muscles so that important activities of daily living can be regained at an earlier stage.
Intensity and Frequency are Important
Vibramoov therapy protocols follow a patient's progress. Rehabilitation sessions allow a progressive and more intense work regime based on the repetition of task-oriented stimulation. The aim is to allow the patient to regain their motor skills earlier.
Recovery of Mobility
Vibramoov therapy for the upper limbs gives the patient the sensation of multi-joint movement and drives him to realise
important motor responses. The patient thus recovers
mobility.
BIMANUAL COORDINATION
During the rehabilitation of stroke patients, the Vibramoov
bimanual coordination treatments can involve the
nonparetic limb and facilitate the paretic limb's recovery.
COGNITIVE STIMULATION
Advanced treatments allow the patients to realise drawing and writing movements. Vibramoov will provide them with live video biofeedback that strengthens the sensory system and motivates them throughout the session improving long-term outcomes.
DECREASE OF SPASTICITY AND IMPROVEMENT OF MOTOR FUNCTION
Vibramoov has a specific mode to decrease spasticity. Stimulation is generally applied directly in the middle of the antagonist muscle to the spastic one.
This stimulation induces an increased activity within the muscles directly stimulated and therefore a reciprocal inhibition on the spastic one.
Vibramoov anti-spastic stimulation will be necessary to regulate the tone of the patient's muscles and prepare them to receive other stimulation through the tendons that elicit a natural sensation of movement and induce multi-joint motor responses.